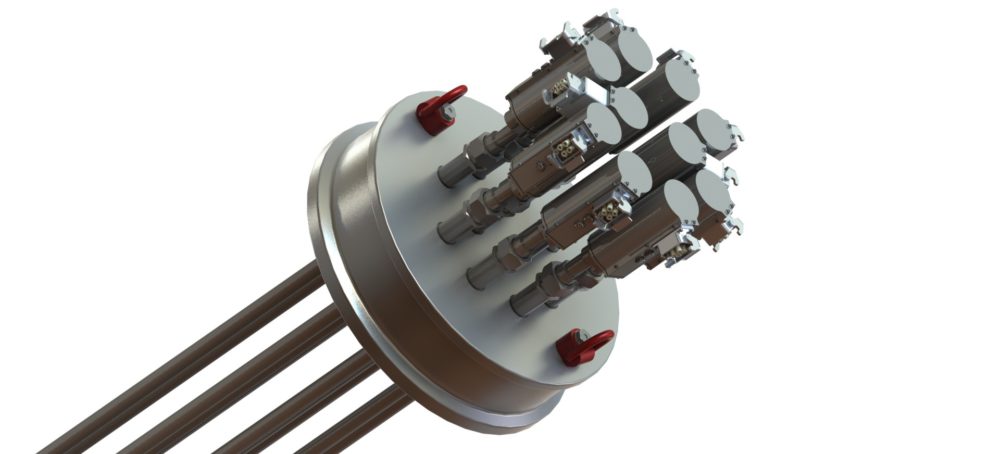 Our MI cable technology for heating solutions can withstand the harshest conditions: high radiation, vacuum or high pressure, aggressive media, high temperatures, high watt density...
When the environment does not permit standard heating solutions, we can offer our services to design a specific heating solution. Our team is used to making designs to match your specifications for:
Construction standards (mechanical: ASME,YVL, KTA, RCC-M, RCC-MR, RCC-MX, RCC-MRx electrical: KBE, RCC-E, TBE, IEEE )
CATIA thermal and mechanical modeling
PRZ (Pressurizer) heaters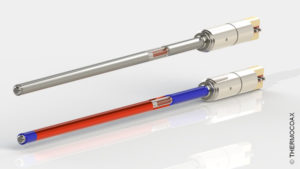 Pressurizer heater
Applications
 Pressurizer heaters for new-build NPPs (Nuclear Power Plants)
PRZ heaters for NPP retrofit
PRZ heaters for test loops
High watt bundles to simulate transience in test loops
 Key parameters:
    Excellent heat conduction
    High watt density up to 40W/cm²
    Various pressure and heat resistant connector designs
    More solid construction than cartridge heaters
    Outer Diameter from 17 mm to 31.7 mm
    Length from 0.5 up to 12 meters
    Connectors up to 260°C, pressure tested up to 260 bars
  Product features:
 Unique proprietary manufacturing process for heating solutions
30 years' operational experience, more than 10,000 PRZ heaters supplied
Failure rate 3 times lower than conventional technologies
Double barrier system to reduce contamination risk
Proprietary solutions to prevent IGSCC  (Stress Corrosion Cracking)
Available for any pressurizer dimensions for vertical or horizontal mounting
 In-depth knowledge of design using FEA simulations to determine and confirm thermal, electrical and mechanical construction.
 Designed and manufactured according major construction standards (ASME, KTA or RCC-M)
1E qualification possible. New configurations qualified by similarity or testing.
Fuel pin simulators
Applications
 Material characterization of nuclear reactor fuel rods
Experiments to reproduce core coolant circulation in steady state, transient and accident conditions
Simulation of various fuel designs
 Key parameters:
 Precise mechanical construction allowing low internal temperature gradient
 Electrically isolated from the coolant
Outer diameters from 4 mm up to 22 mm.
Watt density up to 220 W/cm². Outer sheath stainless steel and Inconel.
Hot section length: from 100 mm up to 3000 mm
  Product features :
 Unique proprietary manufacturing process
 Linear or cosine heat profile
 Proprietary connector designed to withstand voltage, current and temperature
Thermocouples can be embedded
Trace heating
Applications
 Trace heating for pipes, tanks, plates for fusion and fission reactors.
High density heating collar
Boron tank heating solutions
Key parameters:
 Outer sheath made of Inconel or stainless steel
Waterproof & fireproof
High operating temperatures permitting high wattage
Non-ageing of raw material under flux
great mechanical strength
Small overall diameter
Tight bending radius (down to 3 times outer diameter)
Competitive installation cost
Radiation resistant
Earth continuity along outer sheath
Resistance to corrosion optimized by selecting grade of stainless steel
No intermediate transition between hot section and cold ends within the same outer sheath (allowing maximum chemical / thermal resistance.)
High insulation resistance allowing low leakage current
  Product features :
Several connector types available to suit all working conditions
All configurations of line resistance, outer diameter and length
Several designs of cold / hot transition from low to very high watt density
Can be supplied with thermocouple
Customized ovens
Applications
 Special ovens made on demand
Material ageing experiments
Heat treatment
 Key parameters:
From low temperatures up to 1400°C
From a few centimeters up to 1 cubic meter
Flexible heating cable offering small dimensions and easy routing
No weld in the hot / cold transition offering best reliability
High heat flux up to 20 W/cm². High operating temperature
Can incorporate instrumentation such as RTD or thermocouple
Product features:
Completely mechanical construction
Heater integrated to the assembly allowing thermal optimization
Enhanced temperature profile
In-Core heating systems
Applications
 Connectors capable of ensuring long term tightness. For power, instrumentation & control solutions in high radiation and/or high temperature environments.
Key parameters:
Different solutions available: connectors designed dependent on normal operating conditions and accident condition severity.
Can withstand radiation, pressure and temperature of a design Basis Accident
Some designs exclude organic compound material
Product features:
 State of the art ceramic seals. Qualified resin compound if permitted.
LOCA & Post LOCA resistant, severe accident resistant
Small dimension, single or multiple contacts
Contact pins in nickel or thermocouple material